By Lori Baumel
Do you find yourself in perpetual motion and feel that there's no time for personal growth? Are there things that you want to learn but never have the time? As "season" winds down here in Wellington it is time to start thinking about the late spring and summer months and how you will enrich those rainy Florida afternoons.
I often look at this time of year as an opportunity for personal development and hope I can encourage you to do the same. In the past few years, I have cultivated my interests by taking a few jewelry making and photography classes. For example, a combination of both interests is depicted in the photo above. I gave the wire-wrapped amethyst to a friend as a gift, but I'll always have the photo!
I took two classes on "wire wrapping" at one of the local bead shops. Thereafter, I picked up some jewelry making books and magazines at Barnes and Noble and I have been creating unique jewelry ever since. YouTube is also an excellent resource to hone any artistic technique. Admittedly, the videos are often amateur but informative. In addition, I've been able to develop my photographic skills by taking courses at the Palm Beach Photographic Center.
If you do not have the time to pursue creative skills in a classroom environment, I would highly recommend the website Lynda.com. They offer many free courses to give you a sense of what their videos have to offer.  If you enjoy the site, for a small monthly fee, Lynda.com provides unlimited access to over 1700 video courses in 140 specialties including photography, web design, business software and more.
So, what are you waiting for? Let's get started!
Live… Go… Do!
Top Five List for May 2013
1) Experience: UBUNTU – Performed by the Young Singers of the Palm Beaches
Kravis Center, May 19th at 7 PM
"An award-winning, world-class troupe of youth singers who have performed at LincolnCenter and at international music festivals in Salzburg and Vienna, Young Singers of the Palm Beaches is comprised of more than 350 talented youth in grades 3-12 from all parts of Palm BeachCounty. Ubuntu celebrates Young Singers of the Palm Beaches' milestone 10th anniversary.
At a time in our country when even our neighbors might be strangers, Ubuntu is a South African concept illustrating the connectivity of humanity. The performance will be highlighted by an original song of the same name and world premiered at the concert." – KravisCenter press release
The Young Singers of the Palm Beaches (YSPB) has provided an absolutely incredible choral program since its inception ten years ago. Two of my children were vocalists in this organization and I know for a fact that their concerts are awe-inspiring. YSPB's credo is "Teaching life skills through music." Many music professionals in the tri-county area have enrolled their children in this choral organization. YSPB has programs for ages eight to eighteen. Auditions for the 2013/2014 season will be held on June 1st, 2013. For audition information go to:
YSPB is a privately run, non-profit organization. Tuition fees are charged. Financial aid applications are available on the website.
"Young Singers brings together children from all the diverse cultural, ethnic, racial, and economic backgrounds of Palm BeachCounty in a positive, nurturing, and safe environment to experience and participate together in many different kinds of choral music, while learning about each other." – YSPB press release
2) See: Doris Duke's Shangri La: Architecture, Landscape, and Islamic Art
If you're interested in Islamic art, decorating or visiting a tropical paradise, then this exhibit is worth perusing for an hour or so.  I created a slideshow especially for our AW readers to experience a virtual tour of the exhibit at the NortonMuseum. Perhaps it will interest you in seeing it for yourself. The exhibit ends July 14, 2013.
Or see the video at: http://youtu.be/0EndNrgPu7Q
3) Go: Art in Public Places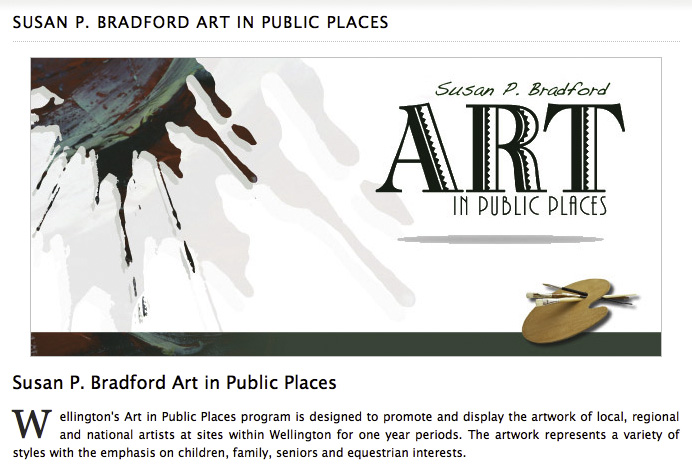 For more information call 561-791-4000.  For list of locations and to see the artist brochure go to: http://www.wellingtonfl.gov/community/attractions/parks-a-recreation/art-in-public-places.html
4) Read: (Well, sort-of) an Audio Book
I'm an avid fan of the website www.audible.com. It is excellent entertainment for those who love to multitask. Every month I purchase an audio book from the site. This month's audiobook recommendation:
Bossypants, read by the author, Tina Fey
Whether I'm at the gym, driving (using my iPhone's Bluetooth connection), unloading the dishwasher or even folding laundry, I find myself laughing out loud.
5) Wow! Have you checked out the cool new resources at the library lately?
Those card catalogue days are long gone. Yes, you can still go and check out books, but now the library offers videos, free great music downloads, e-books, audio books and more. This URL alone could keep you enriched all summer long. All you need is a library card linked to your email address to get you started.
See: http://www.pbclibrary.org/
Plan Ahead:
The Kravis on Broadway 2013-2014 season has been announced! Whether you purchase a series subscription or simply opt for one or two shows, the Broadway series has proven to provide entertainment for all ages. Although I can't give you a critique of shows in advance of the season, what I can offer is a wonderful sneak peak video of what's to come. See:
http://www.kravis.org/broadway
Over the years, I have found the touring shows to be a great introduction to the theater for my older children. Admittedly, I go to New York once or twice a year to experience as much theater as I can. I was absolutely blown away by the production of War Horse at Lincoln Center. If the Broadway Series version is even half as good as it was in NYC, the outstanding puppetry alone is worth examining.
Helpful Hint: If you want to see a review of a touring show, you can Google the "name of the show" + "touring company" + "review" and see what comes up. Most touring shows will have some type of critique by September 2013. Perhaps a review of an "out of town" performance can guide your decision.
Summer Youth Program:
The Lake Worth Playhouse summer theater camp program has a fine reputation for teaching the skills involved in a live theater production experience. For more information see:
http://www.lakeworthplayhouse.org/summer_camps.html
– Lori Hope Baumel