By Lori Hope Baumel
Originally appeared in Around Wellington Magazine on June 1, 2013
… to be an individual.  To set yourself free and experience life without fear of what people think, what they will say or how they will react to your new sense of individuality.  I am often told, "I would have loved to have seen that show (movie or exhibit), but I had no one to go with."
Somehow, in our society, it is acceptable for us to shop, cook, work, clean and run errands on our own. We attend the kid's hockey and basketball games by ourselves, if need be, right?  Sometimes, we do enjoyable things like grab an hour at the beach with a good book, take a spin class or get a massage. Why do we have this double standard when it comes to enjoying the arts?
Yes, it is wonderful when you can share an entertaining experience with someone you care about and I do attend most cultural events with my husband. But, more often than not, you are better off attending something by yourself than dealing with:
1) Guilt: the cost of the tickets
2) Worry: I hope he/she likes the show
3) Snoring: "If I elbow him again, I could hurt him."
It's unfair to your significant other or friends if you're an opera lover and they find it barely tolerable. If you enjoy a good chick flick and your spouse would prefer Terminator 15… split up! Go to the theater together, grab a small popcorn, bring your camouflage color Snuggie blanket (seriously, it's freezing in there), go to separate theaters and enjoy the movie. Life is too short to care about how others in a dark theater might judge. In addition, the experience is something you can discuss with your spouse and your friends afterward.
The benefits:
For example, it is less expensive to get a phenomenal single ticket at the Kravis Center than pay for two seats in the "nosebleed section" of the theater. Last season, I sat anywhere from the third to seventh row in the "center orchestra" section and saw some of the finest orchestras, performers and artists in the world.
I just returned from a trip to New York City. I took a five-day excursion to see four plays in four days before their run was up. Yes, it was wonderful seeing two of the plays with a cousin who enjoys the theater. But, I am quite pleased to say that I sat rather comfortably, on my own, watching Bette Midler and Tom Hanks performing in their respective plays on Broadway.
In the long run, when I tell someone that I saw a particular show, they never ask, "Who did you go with?" The question usually is, "How did you like it?"
So get on out there! Go to a street festival, take a photo safari, bring a sketchpad to a park.  Create something beautiful… create a better you. 
Live… Go… Do!
Top Five List For June 2013
1) Experience:
Norton Museum of Art
Art After Dark
 Features Summer Songwriters Showcase and more…
The Norton's weekly Art After Dark series – Where Culture and Entertainment Meet – is highlighting the art of songwriting this summer by featuring the popular Chrystal Hartigan Presents…Songwriters Showcase. Art After Dark is held Thursdays from 5 to 9 p.m. at the Norton, and this summer will be free to Florida residents. Hartigan will host three Art After Dark showcases, each featuring a "thematic" lineup of songwriters "in-the-round" from 7 to 8:30 p.m. in the Museum Theater. On June 6, 2013, Inez Barlatier, Gin Blische, formerly of Inhouse; and Charlene Chuckaree, aka "A Girl Named Chuck will be the featured singer-songwriters.
Take note: the Museum is offering Free Thursdays to Florida Residents during June, July, and August, and free admission to active military and their families from Memorial Day weekend through Labor Day weekend.) During the summer, visitors also can enjoy Curators' Conversations, discussing artworks and exhibitions with the Museum's curators and educators.
 …And for the kids! Families will have their hands full, quite literally, as the special exhibition Block by Block: Inventing Amazing Architecture opens June 20, featuring a play area where visitors can build using LEGO bricks. In addition, special nights feature DIY (Do It Yourself) Art Projects for kids to explore creative concepts in architecture.
Also new during Art After Dark, the restaurant will be offering a selection of gourmet pizzas! To find out more about Art After Dark, log onto www.norton.org.
2) Read:
In Defense OF Food, by Michael Pollan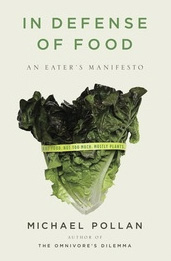 Michael Pollan's credo, "Eat Food. Not Too Much. Mostly Plants." Is the basis for this highly informative, yet flowing read. Normally considered a rather dry, scientific subject, Pollan's theory about food science draws you in on a very personal level.
I, in particular enjoyed the AUDIBLE.COM audiobook narrated by Scott Brick. It covers nutrition science, the public's confusion about what is considered to be healthy food, and a basic introduction to the chemical content of food and it's nutrients.  At times, Mr. Pollan's writing style is somewhat tongue in cheek, resulting in a much more enjoyable (listening) experience than I expected.
3) Join Your Neighbors for:
Free summer films, concerts and Wellington's own Food Truck Invasion at:
 The Wellington Amphitheater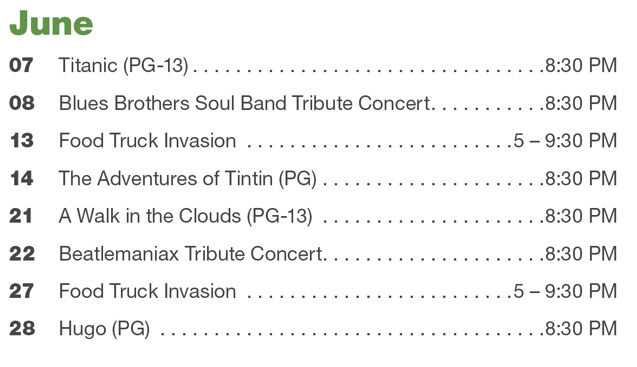 For more info see: http://www.wellingtonfl.gov/community/amphitheater.html
4) Experience:
JAZZIZ NIGHTLIFE… for a New York kind of "Night On The Town"
"JAZZIZ Nightlife fuses indoor and outdoor fine dining and lounges with state-of the-art music/video recording and design studios, print, online and broadcast media properties, daily jazz club shows, weekly concerts from national recording artists and annual outdoor music festivals; offering a palette of music, culinary and lounge delights, masterful live performances, events and social experiences."
– JAZZIZ website
This Boca Raton Venue will be featuring top talent during what would normally be a rather quiet season for entertainment in South Florida!  The whole summer is filled with noted Jazz greats like Bobby Caldwell on June 5 & 6.
My pick: On June 20, 2013 Jazz icons, Saxophonist David Sanborn and Keyboardist Bob James, join forces after a 35-year hiatus and bring along Grammy-winning drummer Steve Gladd and bassist James Genus. JAZZIZ Nightlife is one of the few intimate venues in the world featuring this powerful quartet. Two shows: 7 & 9 PM
 See this incredible duo collaborate on YouTube:
CLICK ON: http://www.youtube.com/watch?feature=player_embedded&v=BxyrHFK2Uxk#!
Also appearing at JAZZIZ on June 26 & 27: Kevin Eubanks
"Kevin Eubanks is an American jazz guitarist, composer who entered the music scene in the late 70′s before becoming the leader of Jay Leno's The Tonight Show Band from 1995 to 2010. Eubank's comes from a family with a long line of musical super talents."
– JAZZIZ website
For ticket prices, dinner reservations and more information log on to: www.jazziznightlife.com
5) Listen: to National Public Radio (NPR):
Yes, sometimes it feels like we live in the boondocks and our radio reception is often on the border of static and almost inaudible. Yet, here in Palm Beach County, we have several National Public Radio stations. Depending on your location, we have access to 90.7 FM (Classical South Florida), 91.3 FM (WLRN, Miami) and 101.9 (WXEL, Palm BeachCounty).
It often pains me to know that some of the most intelligent, artistic people I come across have never even heard of this audio phenomenon. I started listening to WLRN, while attending the University of Miami and I have been hooked since. Now, in the glorious digital age, we have access to podcasts of great shows via the many free NPR apps for your smartphone, iPod or tablet and on a computer at NPR.org. If you have difficulty tuning in on your radio, you can download or stream a podcast.
Programs covering the latest in news, reviews, music, arts and life, food, books, film, pop culture and more can be heard at your own convenience. In addition, there are years of archived shows and interviews right at your fingertips. NPR has been one of the greatest cultural experiences I've ever had. It has shaped my very existence! I hope you add it to your daily experience as well.
I would highly recommend you tune in to any of the following shows or podcasts:
Wait until you have your first driveway moment! A driveway moment is the term used for true NPR devotees who don't want to get out of their car until a particular story has concluded. Just go to NPR.org and see for yourself.
Explore the site, change your life.